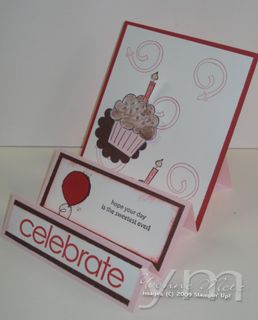 Hello all! Hope you are all had a wonderful Saturday! 
I had a GREAT Day today! I did a Demonstration at our "Udderly Awesome" Meeting today. 
I demo'd the Stair Step Card. This is such a fun card and at first looks so intimidating but it is SUPER easy.  I am so visual and I know others are too so once you SEE it then it's like OHHHH! ; ) 
Anyway, it was an awesome meeting and Ladies and other things demo'd where GREAT!
Download Stair Step Card Directions w photo
  All supplies used are Stampin' Up!
Recipe:
Stamp Set: Crazy for Cupcakes, Celebrate Everything
Card-stock: Pink Pirouette, Riding hood Red, Chocolate Chip, Whisper White
Ink: Riding-hood Red, Chocolate Chip, So Saffron
Accessories: Scallop Punch, Dazzling Diamond Glitter!
Wait til you see tomorrows card! Now go and make some Stair step cards! I would love to see your creations!
As always thanks for stopping by & Happy Stampin',
Yvonne Metz
Vista, Ca.