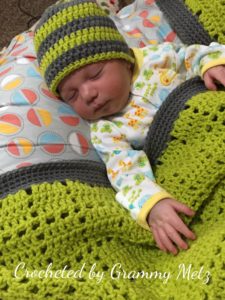 Hey All – I know LONG time no post… IT's been way to long!  Just a quick update as to what's been happening here with me! 1st and most exciting is that I'm a Grandma! YES indeed – 8/15/2016 my Grandson "Richard Nikolai Six" was born! He is the apple of this Grandma's eye for sure!  He for sure took my breath away when I first laid eyes on him and had him in my arms for the 1st time!
It was sure tough with them being out in Kentucky (Army base) and me  here in California! I got to spend a whole month out there with them though which was awesome!
If you are wondering about his Crocheted Hat and Blanket – Yes I made them for him! Grammy made alot of things for him!
So that was a HUGE event for my family since he is the 1st Great Great Grandson to my Grandparents! Yep 5 Generations!  It's absolutely "Amazing"! I'll have to share that photo another time!
Anyway 2016 was a pretty busy year and I've not shared or blogged very much! But I'm getting things back together little by little – Wait did I mention that My daughter has moved back here to California? Well yes they have! Which makes me extremely HAPPY!  My Son in Law is an Army recruiter now and was lucky enough to get to come back home!
Well I'll be sharing some great projects in my next post and I've also decided to get back into doing videos again! I'm going to re-do all the older ones I have on YouTube right now with new product!  As always thanks for stopping by and…
Happy Stampin',
Yvonne Metz
Save
Save