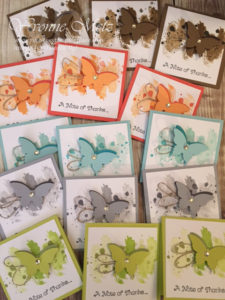 So I needed to make some 3 x 3 Note cards and was inspired by a card a saw on Pinterest by Tracy May – so these are what I came up with!
Love ALL the color combos and how extremely FAST these were to make! The Butterfly punch is retired but you can use the Butterflies Thinlits also.
I used the Work of Art, Swirly Bird and Thankful Thoughts stamp set all by Stampin' Up!  Want to know how I made them please ask!
As always – Thanks for stopping by and…
Happy Stampin,
Yvonne Metz