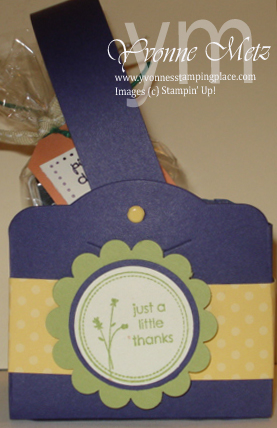 Hi Stampers!
As promised I am sharing the Tutorial for you today of the box that I shared  yesterday. The PDF is below for you to download.
Now I found this on YouTube and I am so sorry I thought I had the link saved and don't. But if you do a search you should be able to find it.  YouTube name is thestampcamp it is an awesome and easy video to follow. If you still can't find and want it just comment me or email me is fine. 
But I do know that this was shared on a Stampin' Up!  Cruise by Lisa Curcio & Jill George.   What a cute project and Super easy too. Once you do a few they are very addicting. Just a warning! ; )  If you have trouble downloading the file please let me know.
Download Two Tags Gift Box
Thanks for stopping by and enjoy! 
Happy Stampin', 
Yvonne Metz – Vista, Ca.