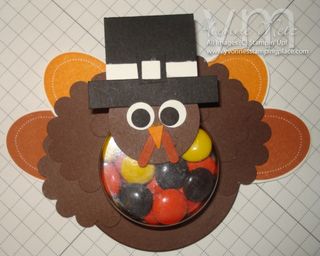 Good Evening! I have been super busy today and am just now able to post these to "stinkin cute" Turkey Favors!  Sorry about that! 
I so missed the Turkey craze last year and thought NOPE not this time!  So here we go!  Thanks to a fellow SU! Demo Connie Collins I found her video on youtube!  Aren't these the cutest?  Oh, and my son wants me to make these for his classmates.  So I guess 1 down and 23 more to go? Well not sure since I would have to have them done by Thursdsay night!  That's pushing it alittle. Ok, ALOT! LOL! We'll see what I end up doing! So what did I use for these favors? ; )
 Supplies:  All Stampin' Up! unless otherwise noted.
Stamp set:  Sweet Centers #116521
Ink:  Crajun Craze, More Mustard, and Pumpkin Pie
Cardstock: Whisper white, Basic Black, Chocolate Chip
Accessories:  Scallop Punch, Square Punch, Circle punch, Wide Oval Punch, Treat Cup Holders
I'll have another cute project tomorrow with yes, a Turkey! Love him! That's all for now. If you have any questions at all what so ever please don't hesitate to ask!
Thanks for stopping by and Happy Stampin',
Yvonne Metz
Vista, Ca.