Good evening all!  What a day today!  I had to get a few things for tomorrow. Oh Boy, I didn't think I was going to get out of the store alive! LOL!  Actual I think I went right before the craziness was going to begin. I had my son with me so I was glad it didn't take to long!  Just grab what I needed and RAN! LOL! 
So before I curl up with my yarn and watch some T.V. with the boys I wanted to share these 2 cards that we made at my Fun Folds Class. 
Every month I have different types of folds, or something interactive! LOVE those kinds!  So we did 2 Wiper cards and 2 Z-Fold Cards.  I'm showing you the Thanksgiving Wiper Cards today and will share the other 2 on Friday.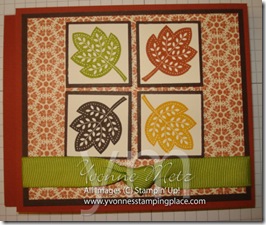 Thanksgiving Wiper Card
This is it!  Now the inspirations for this card was one that I saw on Stampin Connection, from a Barbara Welch!
LOVED it as soon as I seen it! She had a really nice Brad in the of the 4 squares.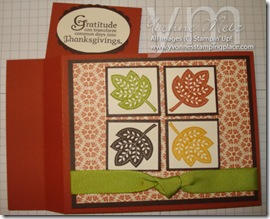 When you pull the sides of the card your greeting pops up on top! It's like a Wiper effect!
Super fun to make.
All Material used are Stampin' Up!
Stamp set: Day of Gratitude
Cardstock: Cajun Craze, Very Vanilla, Early Espresso, Autumn Spice DSP
Ink: Old Olive, Cajun Craze, More Mustard, Early Espresso
Accessories: Old Olive 5/8 ribbon, Dimensionals.
I really like this style of card!

Stamp Set: Paisley Prints, Teeny Tiny Wishes, Day of Gratitude (Acorn)
Cardstock: Very Vanilla, Chocolate Chip, Pumpkin Pie, Autumn Spice DSP
Ink:  Pumpkin Pie, Old Olive
Accessories:  Early Espresso satin Ribbon, Neutrals Brads, eyelet border punch, Dimensionals, Dazzling Diamond Glitter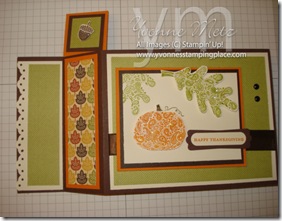 Here is it open! I really like how this turned out!  This was actually my 1st attempt at this style of card!
Well that's all for now! Hope you liked these! Thanks for stopping by! As always if you have any questions at all please don't hesitate to ask! Hope you all have a great evening!
Happy Stampin',
Yvonne Metz
Vista, Ca.