I got back from Stampin' Up!s  Inspire . Create . Share 2015 Convention last week!  As always I had a blast!  It's catch up time! Although I'll be heading on a family vacation and won't be posting til I get back!  I have a few posts scheduled. I'll be back to posting more the week of August 10th!  So for now I'll leave you with the finished card from my 2nd Convention Swap!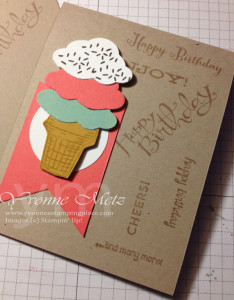 I absolutely LOVE how this card turned out!
When I get back I will edit this post to add all the materials I used for this card!
As always thanks for stopping by and…
Happy Stampin',
Yvonne Metz
Vista, Ca.