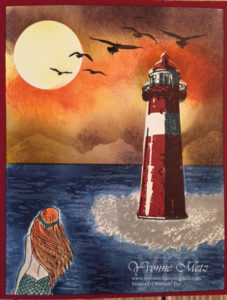 Happy Wednesday ALL! Ok so this is day 3 of Mermaid week!  I have LOTS to share and more ideas with this stamp set!  Remember all the Mermaids I stamped? Well I've got to do something with them right?
BUT was super excited with this card that I created last night and it kept me up late that's for sure!
It was in my head and so here it is…."Magical Mermaid" meets "High Tide".  I'm super rusty on my "Sponging" skills but have been practicing. Which you'll see on the card I did before this one. (Yes another Mermaid Card) LOL!   I'm loving this!  Click photo to see bigger image.
Hope you like it….stay tuned for more inspiration.  I can't seem to stop. As always thanks for stopping by and….
Happy Stampin',
Yvonne Metz
Vista, CA.