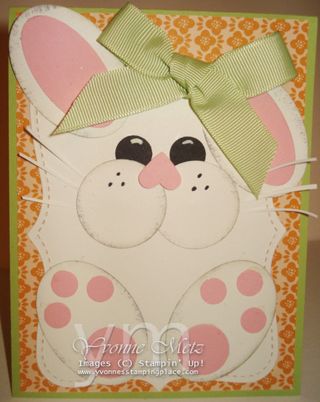 Happy Saturday! 
I have yet another Bunny for you! I LOVE this Top Note Bunny!
Got the idea from Maria Cameron on Stampin' Connection who I believe got it from Terri Ransom. They made a box.
I could not resist making one.  I just added mine to a card…but you could easily put on in Front of the Fancy Favor box….which hmmmm….I do have and could show you later!  I will list all the supplies on that post. ; )
Now this would make a cute "Some Bunny Loves you card too" Doesn't have to be just for Easter.
Anyway, hope you enjoy heading out to take my son to Breakfast and then Easter Egg Hunting at the Fields should be fun!
If you have any questions please let me know.
 Happy Stampin',
Yvonne Metz
Vista, Ca.