Evening all. Well today was a busy Monday lots going on. I wanted to share my projects and cards that we did for my class that I had on Saturday. Now I have already shared all the Cards, just not the 3D projects. I do have to say I think the favorite was the Lion Card.  I am showing a group shot but will share the 3D projects with more detail on each photo soon. Enjoy and thanks for stopping by.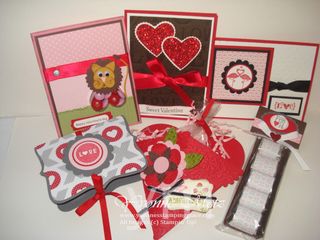 Valentine Class Projects & Cards
On top are the 3 cards that I've shared before. The 3D projects from left to right are:
Love Top Note Die box – Saw this on SCS website and they have a great Video Tutorial and it was super easy to do. The Middle is from "Stampin'  Up!s" New Petal Cone die – LOVE this die and was inspired by the On Stage presentation from Bonnie at Leadership in Nashville. Then I saw the one that my lovely Florida friend Sharon Field made, and HAD to "CASE" that Tag. You can't see it to well but you'll see it in a close up photo when I post it. It just gave it that extra "touch" and I think all the Ladies loved it too. Then the last one I cased from "Becky Roberts" she shared some super cute treat holders that she made during the Holidays for a craft fair and they were just the cutest so I new I had to make some for Valentines Day.
Questions please don't hesitate to ask. Check my events for upcoming classes
Happy  Stampin',
Yvonne Metz
Vista, Ca.