I have anothe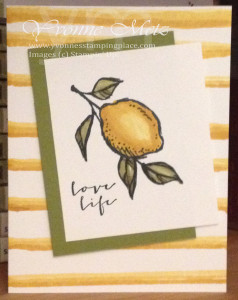 r quick share before I call it a night!   I don't know what it was about this Stamp set but I really like it!
Maybe it's because of the Lemon. Being that my maiden name was "Limon".  I don't know BUT I just knew I had to have it!
Here is the first card I made using this set that you can get FREE only during Stampin' Up!s Sale-A-Bration with a $50.00 order. Ending March 31st 2015!
I also used the Blendabilities for the background on this card!  If you have any questions please feel free to comment or email me yvonne@yvonnesstampingplace.com.  Thanks for stopping by and as always….
Happy Stampin',
Yvonne Metz
Vista, Ca.