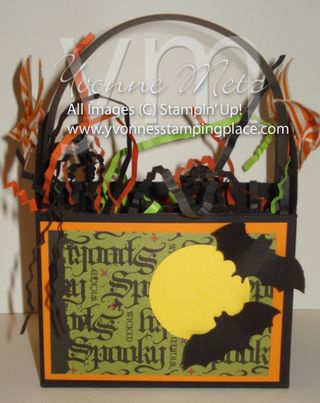 Good  Morning all!
So here is another share that I promised with 1 more coming later in the afternoon. I will give you more information on this box later as I'll be making a video on how to do it. TO fun! 
I wish you could see the sides but I didn't get a photo of it and I no longer have the box.
My son saw it and asked if he could give it to his teacher for Halloween and so it was her gift. Of course it was filled with Candies! 
No worries, I am working on another box and will have TONS to share a little later! All supllies – Stampin' Up!
Questions? Please email me! Thanks for stopping by and Happy Stampin',
Yvonne Metz
Vista, Ca.