Well it's that time once again for Stampin' Up!s Convention!  I am headed out today and I can't wait!  I've got my swaps done….I know I am shocked not last minute down to the wire rushing around!   I'll give you a quick Sneak Peek then I'll post the whole card Thursday!
I know long time no post – it was super crazy with school ending, Baseball was in "Full Swing", with my son's season ending then he made All Stars so it didn't end! BUT we are taking a nice break and with summer in motion it's all about the Beach, Vacation etc.  So I'll be planning Classes and an Open House very soon!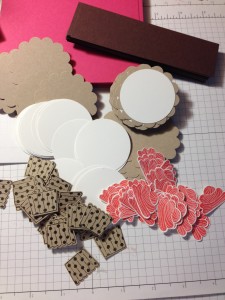 So here are all the pieces to my swap!  Is that mean or what? LOL!  I know right?
I'll post the card tomorrow with all the supplies used to make it!
Until then as always thanks for stopping by and….
Happy Stampin'
Yvonne Metz
Vista, Ca.