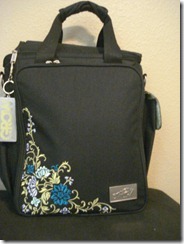 Hello Stampers!
Well catching you up on things since Convention and I just had to share a few things with you all!  First off Convention was AWESOME!  For those who came to my Open House you saw MOST of the things I got or Won. My Down Line however got to see it ALL! LOL!  I can share some of that here.  Here is our Convention Bag for this year! LOVE it!
I was chosen to be a Make n Take Helper this year! Woo Hoo!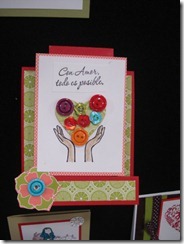 Also this year at Convention they had "Hispanic Night" on Friday which was an AWESOME Event…we got to do a few Make n Takes which we got the Stamp set for. TOTALLY did not know that was going to happen. 
Then we had a Card Contest.  We had to come up with a card in 7 minutes. We had to put our stamp set together and only our Team Captain could get our supplies for us. 
Now can you imagine that?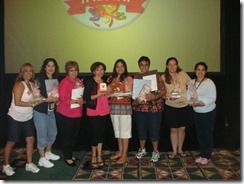 Well, our table won! 
What did we win you ask??  More Stamps Sets (3), glitter, DSP and Ribbon! I know OMG right???  I'm sharing the photo of our group and the card we all came up with too!  Woo Hoo! So exciting!
Oh and the last day of Convention's "Prize Patrol" – I won yet again!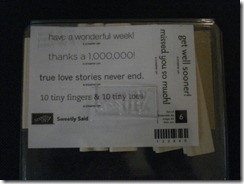 Oh, and I also got another Stamp Set for Recruiting and a pin!  Let's say I made out like a bandit this year!
Thank goodness I drove. I would have had to buy another suitcase just for all stamp sets I got! LOL! 
All I have to say is that I love Stampin' Up! they are a super generous company and I am so proud to be a part of it!
Thanks for stopping by and as always Happy Stampin',
Yvonne Metz
Vista, Ca.