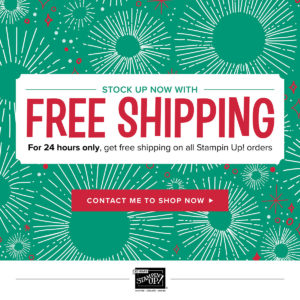 It's Stampin' Up!s Cyber Monday Special – FREE SHIPPING!  Who doesn't like that!  24 hours only!  Click on the image to take you to my shop!
Haven't meant to be MIA for this long, but we all know life happens.  I've have been selling a few items in the Outlet Mall in San Clemente, Cards as well as Crocheted items. They've been doing very well!  So I've had to keep up  and get more cards in there! Which is very nice and am truly grateful for this opportunity to have my cards selling! Woo Hoo!
Stay tuned for more projects, videos and my latest classes coming out this week!
As always if you have any questions please ask, thanks for stopping by &,,,
Happy Stampin'
Yvonne Metz