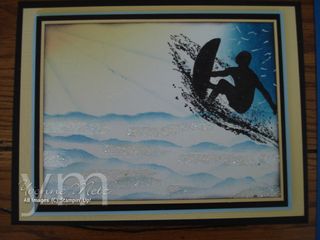 As  promised a few more cards that I absolutely LOVE! A soon as I saw this card on Sharons Blog I knew 1. I had to have the Surfer Dude, 2. when I went to Florida I had to leave with one! LOL!!! A little obssessed?? Maybe? LOL!!
This was Brayering and Sponging together. Not bad for my first try.
I loved all the colors and layers and sparly stuff! Gotta have the Sparly stuff.  To get the Tutorial CLICK HERE and you'll go directly to it. 

The next one is also Awesome and don't ask me why I had a harder time with this one maybe my brain was on overload but between my Death grip on the brayer and over sponging?? But when all was said and done you really couldn't tell where I messed up. Well I can. LOL!!! For this Tutorial you can CLICK HERE and get it directly.
Thanks for stopping by! Make sure to come back tomorrow to check out the Builder Wheel Samples I have. Fun! Fun! Fun!
Happy Stampin',
Yvonne Metz
Vista, Ca.