So sorry for not posting sooner!  Lot's going on! But I will have tons of posts coming with super fun 3d projects and cards.  This Easter Bunny Box was inspired by Sandi MacIver! I LOVED her Bunny Box and just had to make one.  She has a template on her website but I used my Big Shot Dies for this.  Hope you like!  As always I appreciate you stopping by and taking a peek….promise to keep the ideas coming sooner.  Baseball for the Metz household is almost over so I'll be able to post here more.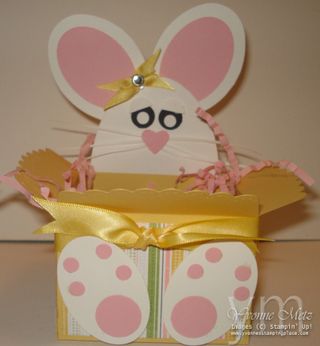 Easter Bunny Box supplies! All are Stampin' Up!
Card Stock: Whisper White, Basic Black, Pretty in Pink and So Saffron, I am so sorry I don't know the name of the DSP off hand but it is retired and I had a stash of it! ; )
Accessories:  The Big Shot (Oh Yeah), Dies are as follows: Ovals, Scallop Envelope (for the box), Frame, Oval Scallop Pgs. 206, 207 & 213
Punches are as follows: Wide Oval for the inside of the ears and for the feet. Heart Small punch, 1/2 Circle punch for the eyes, 1/4 circle for the inside of the eyes and the the toes,  3/4 circle for the bottom of his foot, slivers of whishper white for the whiskers. Daf. Delight Satin Ribbon, Rhinestone Brad.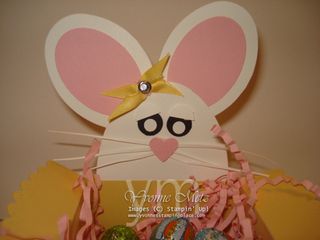 I think that is it! PHEW! I LOVE how she turned out. I LOVE the face.  Had to show you a close up!
My son wants to give this to his teacher…so she'll be out of my hands and on to a new home!
Thanks for stopping by and Happy Stampin',
Yvonne Metz
Vista, Ca.