DON'T FORGET TO SCROLL DOWN FOR FUTURE POSTS THIS WILL STAY ON TOP TIL MONDAY (1 comment per person please)
Yup, it's my Birthday today!  But I honestly don't feel 29 again! LOL!!!!  Ok so I'm not! ; ) But again I don't feel like I am 42 either.  I think it's my son that keeps me on my toes..He is a very busy 4 yr old. ; )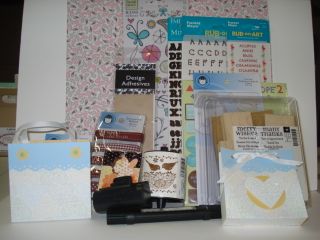 Ok, so here we go!  Not only is it my Birthday but I just realized that I have over 50,000 hits to my Blog! OMG!  I didn't even realize when that happened! NO, half of them aren't my hits…or are they?? LOL!!  Anyway.. what better way to say Thank you…Yes Blog Candy!  I've got lots of goodies for you.  So from today until Easter Sunday Leave me a comment on this post. Which will stay at the top until Sunday.  There will be 2 Winners….which will be picked on Monday by Random.Org.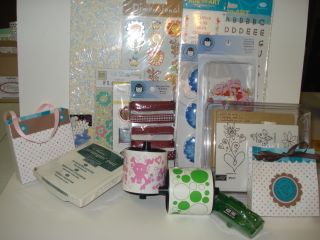 Ok, so I've got 2 Groups of Goodies! The one above has got a variety of things! From Stampin' Up DSP, SAB Stamp Set from last year, Ribbon, Rub-ons, Chipboard, Jumbo Wheel, Ink Cartridge…Lots of stuff.
Group 2 which is to the right has got about the same Goodies as well.  I am also going to include in both groups some card fronts that you can easily make into Full cards!
As you can tell I am cleaning house..I've just got SOO much! ; )  So anyway all you gotta do is leave a comment anything you'd like JUST make sure it's on the post!
Well I am going to breakfast with my Hubby and kids this morning and then he will be taking me out for a nice Dinner later….just the 2 of us. As always thanks for stopping by!
Happy Stampin',
Yvonne Metz
Vista, Ca.