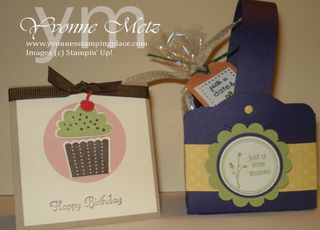 Hi Stampers,
Before I call it a night I wanted to share the projects my Downline and I did yesterday.  Christina, Jackie and Theresa thank you for coming and looking forward to our next get together!
I will post the measurements and how to's of the cute basket we made. Super easy and FUN!  Love that combo don't you?
Thanks for stopping by and until tomorrow….
Happy Stampin',
Yvonne Metz
Vista, Ca.