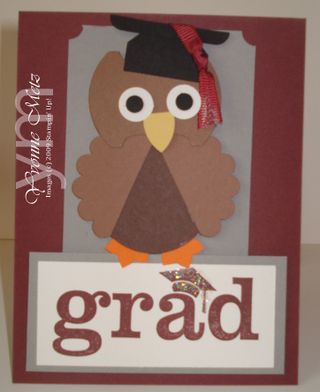 Hello all and Happy Monday!  Ok, I've got YET another Owl Graduation Card. I LOVE this lil Owl and as I mentioned VERY addicting to make too.
ALL Supplies are the same as the Post below..colors, ink etc.  Except I used Bold Numbers set which is retired. 
Now to make the Card Hold the Gift Card I used a 12 x 12 sheet of Cardstock.  I cut it 4 1/4 x 12 then I scored it at 5 1/2 and 11.  The extra inch you will bring it up to the inside of your card and that will hold the gift card. Woo Hoo!  Love this Idea!
Also I wanted to add a HUGE Thank you to those who leave me comments..I so appreciate them and SO glad you like my cards/projects.  Thanks for visiting my Blog!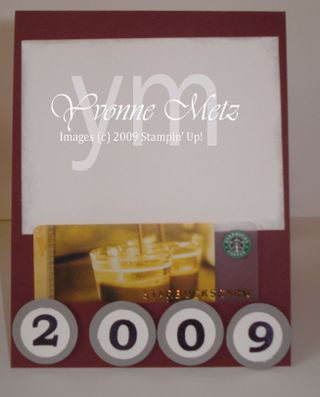 Now back to stampin', my son is at Grandma's house so I need to take advantage. LOL!!! But if you have any questions please don't hesitate to comment, call or email me.
Happy Stampin',
Yvonne Metz
Vista, Ca.