Ok, I came across this fun card as I was cleaning up and organizing things. I had been in a monthly swap a few years ago with a few ladies and this was one of the cards that was swapped! I LOVE it and I have no idea who did it! No name but great card! Can be used for invites etc.. Ideas are endless! Enjoy!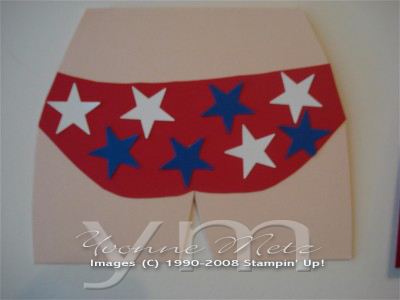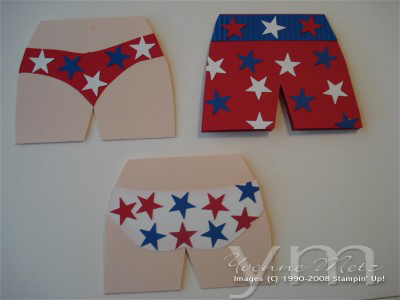 Download bikini_card_pattern.doc
Here is one with matching Trunks! I am attaching the pattern that I was able to scan. Ok, so I finally figured it out BOY I feel like such a knuckle head cuz it was so easy! Will have more shares later!
Recipe: only stamping on this card is the belly button! I used the dot from the the Three for you Punch Box, you could use the end of a pencil eraser too!
Card Stock: Blush Blossom, Real Red, W. White Brilliant Blue & Small Star Punch! You could also add ribbon to the sides of the bikini too! HMMM!!! Ok enough! Thanks so much for stopping by!
Happy Stampin',
Yvonne Metz
Vista, Ca.