Hello all! Ok, I can't believe I didn't share this one last year when I made them!  I have made some more just to have around and because I had bunny parts laying everywhere and didn't have the heart to toss out! UGH! No way! LOL!  Plus I had some Kit Kats handy too!  I got this idea from another Demonstrator Dawn Griffith! LOVE it! Hope you do too!  Super easy to make. Questions let me know.  Hope you are enjoying your Friday!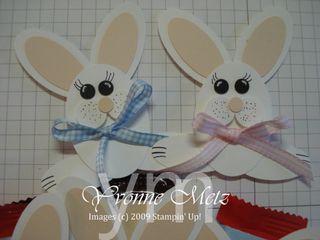 Aren't these just adorable???
Ok, now here are the punches:
Oval - Wide for body, large for outer ear, small for inside ears andf feet
Circle – 1/2 circle for cheeks, 1/4 for eyes and nose.
As mentioned these were made last year for my son's Kindergarten Class!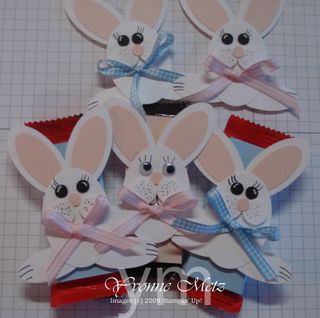 I used gingham ribbon.  Ok, on to the wrapper…
It measures at 3 x 3 1/2
Score as follows:
3 1/2 in side at  3/4 , 1 1/8 turn and score the same measurements on the other side.
Easy right? Punch out your Bunny and you got yourself a super cute and Easy Treat for anyone!
Thanks for stopping by & Happy Stampin',
Yvonne Metz
Vista, Ca.