Hi Stampers and Happy Friday! I wanted to share a few quick projects with you. This was suppose to post last weekend and  I never scheduled it to go out!  My mistake! But here it goes! I have been wanting to do these for some time now and finally got around to it. I  made samples for an "Udderly Awesome" Meeting in Duarte, Ca. that I LOVE going to.  These below are for Fall – I'll share the Christmas ones I did tomorrow morning with all the links to the recipes so you can make some yourself!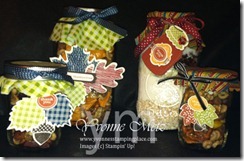 How fun are these!  Besides the jars everything used here is from Stampin' Up!
I will share the mix for the jars and the Cookie Recipe for this one too! It is really YUMMY and was shared with us from Stampin' Up!
These were so fun to make and easy too! Don't know why I waited so long to try them and what a great gift!

Have an Awesome day and thank you for stopping by!
Happy Stampin',
Yvonne Metz
Vista, Ca.