Hi Stampers & TGIF!!!  This week flew by!  Spent most of the week getting "caught up", re-organizing, stamping here and there.  I wanted to share a picture of the little Halloween party favors I worked on Saturday Night.  I am making these for my Son to take to his class mates!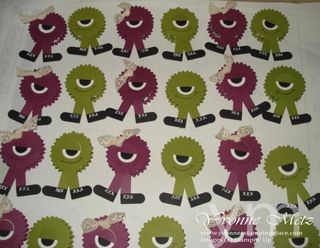 Lot's of Little Monsters! Are these not the cutest??
I got this idea from a Swap at Convention! (Traci DeGolier) LOVE THEM! Of course there is a Peppermint Candy sandwiched between the Scalloped Head.
My son did to and wanted me to make them for his classmates.  So yes lot's of work BUT what's a Mom to do? Make them of course! LOL!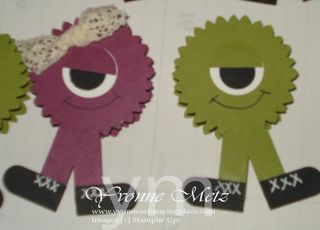 Here is a close up!  I just love the one-eyed Monsters don't you?
I used Stampin' Up! Punches for them. Scallop Circle Punch, 1/2 & 3/4 " circle punches and the Word Window Punch. I will show you the finished packaging when I am done with them.
Want to see another cute project I finished? CLICK HERE!
Questions? email me at: yvonne@yvonnesstampingplace.com
Thanks for stopping by & Happy Stampin',
Yvonne Metz
Vista, Ca.