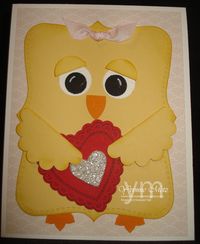 Good Morning! Hope your weekend is off to an awesome start!  So far so good over here!

I have another quick share before I head on out to my sons Basketball game.  Now isn't this the cutest? I did one like this many years ago but for Easter. Which you can see HERE!
I came across it and thought how cute to make one holding a heart.  So this is what I came up with!  I've got a few more shares but will post a little later!
Questions email me or comment here!
Thanks for stopping by and as always….
Happy Stampin'!
Yvonne Metz
Vista, Ca.