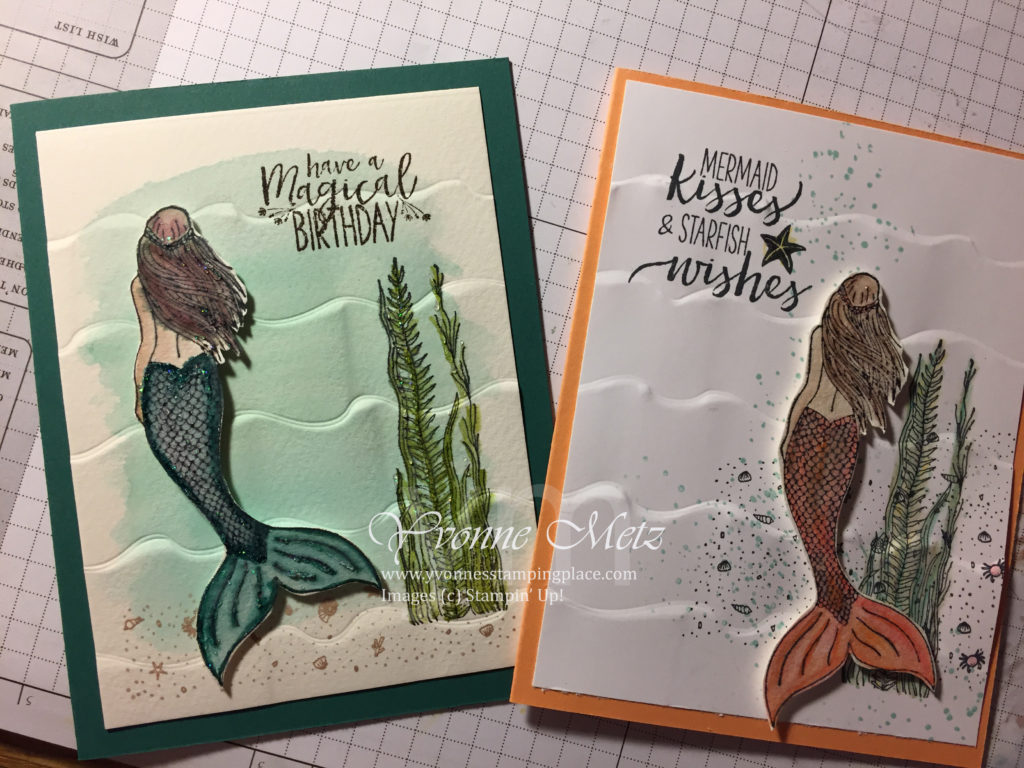 Yes another post today! I might even have another one this evening!  I have to say this NEW Stamp Set "Magical Mermaid" from Stampin' Up! (144-017) is becoming one of my favorites! Yes I do have many and in the next few weeks I'm sure you'll see which ones they are!  But I don't know  something about this set is just so "Magical". No pun intended.  I've always LOVED Mermaids as many girls have and still do! Working with this set has brought out the "little girl" in me I guess!  It's an absolutely ADORABLE set and the possibilities are endless!
The colors above are  from Stampin' Up!'s In-Colors – New this 2017/2018 Tranquil Tide (perfect for ALL things Mermaid or Beachy) then the previous years In-Color Peek-a-Boo Peach! How about the new Embossing Folder called "Ruffled" (143-699). Loving it!  I was inspired from a "Pin" on Pinterest from "Stampin Fee" and a few others. I've created a Board which you can see HERE just for this stamp set!  I'll have to add my own creations to it also!
As you can see with this photo I might have a slight "obsession" with this stamp set!
Seriously? How fun are ALL these colors?  I'm just playing around with single colors – I'm going to be mixing it up with several colors. The possibilities are endless with this set.
Since this photo I've already finished up and cut out the Mermaids! So I'll post a little later my creations!
As always – Thanks for stopping by and have a "Magical Day"! Hee Hee – AND…….
Happy Stampin',
Yvonne Metz
Vista, CA.