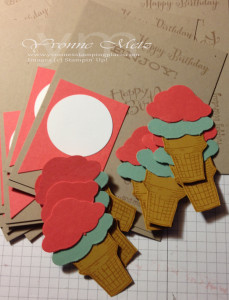 Happy Friday Stampers!  I wanted to share another Sneak Peek on my 2nd Swap.   I didn't have time to write down all the supplies used for this one but will post the full card next week when I get home!
All I can say is I'm loving the New In-Colors this year and who doesn't like Ice Cream????
I am in LOVE with this set called "Sprinkles of Life" (139971) and it's this years Ronald McDonald House set!  With every stamp set bought Stampin' Up! donates $3.00 to the Ronald McDonald House! How awesome is that! Plus this one also has a matching punch! Of course it does!!
Thanks for stopping by and come back next week for the full card and supplies used!
Happy Stampin',
Yvonne Metz
Vista, Ca.