Hi Stampers,
Well I wanted to share some cards I made using a Technique called "Bokeh". The term itself comes from Photography. It's the blury look you get from taking pictures of lights. They have an out of focus faded look.
Well I've been watching lots of awesome videos and found 2 of my favorite methods!
First sample is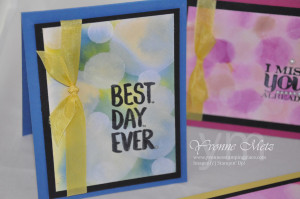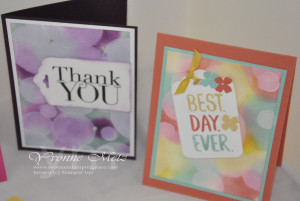 the Water color version, this one will take longer to dry.
Card was inspired by another fellow Demonstrator Sharon Armstrong!
No matter which version – Make sure ink is completely DRY before stamping your greeting.
Next is the Ink to paper version which you really have no wait time except letting the Craft Ink dry.  You can use a Heat Tool gun for this!
These 2 samples were inspired and "CASED" from Dawn O from how'd she do that? And the next was from Mary Brown aka Stampercamper!
I've done a short video showing both of them which you can see below.
Thanks for stopping, enjoy and as always…..
Happy Stampin',
Yvonne Metz