Today is World Card Making Day! Are you making cards??  Well I've got a few to share with you and I have been doing a little stamping today!
Also I have a quick announcement – I have a new Site called www.yvonnemetz.com I have been wanting to do this for some time now and just have been putting it off.  It's my On-Line finished product store.  I will have a variety of different items there and in My Etsy shop also. As I mentioned it is a work in progress so I've only got a few posts….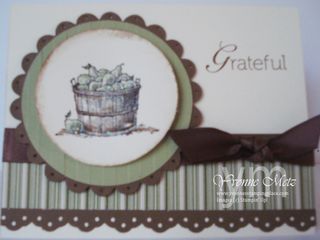 Well last weekend I was at our "Udderly Awesome" stamping meeting in Duarte, Ca. and WOW let me just say – Lot's of ideas and Demonstrations by TONS of talented Ladies! I'll share some of those here also! 
Well I made a Swap (of course) and will share that with you now!  Hope you like and have a great day! As always thanks for stopping by! Heading to my sons baseball game! Not to happy with photo! ; ( I'm sure I'll come back and replace it!
Happy Stampin', Yvonne Metz Vista, Ca.