Happy Saturday all!  I know I am so sorry to have been MIA for a month! YIKES!  Let's just say that it's been crazy busy here in my home!  My Aunt got married July 9th and I was super busy making her Wedding Favors!  Which I am posting below.  I know finally! Then let's see Convention – WOW that's a whole other post!  Coming back from that it's family vacation – Sea World, Lego Land….Hubby just went back to work this week and my Son started Summer Camp. So let's say I'm am playing catch up, but slowly but surely I am getting back into the swing of things.  To say I've been overwhelmed is putting it mildly! ; )
Anyway, on to my Wedding Favors!   I hope you enjoy!  Questions please don't hesitate to ask!  If you want more details don't hesitate to ask me!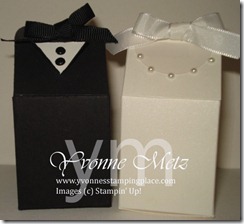 I made these Super Cute Favors for the Wedding party! Super easy to make.
I love the Bride one…I LOVE all the details on both of them! 
These were made with Stampin' Up!s Milk Carton Die! How fun is this?
They look so elegant!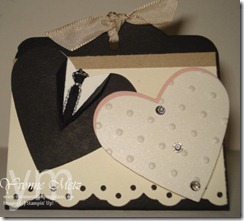 Next I made about 80 of these!  LOVED how they came out. 
Don't you just LOVE the Tie? Love all the Bling too!
I sure hope the guests liked them too! 
 These were also super fun and easy to make using the Two Tags Die also from Stampin' Up!
Ok, I've got to get ready to take my son to a birthday party today!  I'll also be sharing the Wedding Invites I made, Convention Swaps, and much more! Questions email me: yvonne@yvonnesstampingplace.com or call/txt me 760-597-0020
Thanks for stopping by and as always…
Happy Stampin',
Yvonne Metz
Vista, Ca.