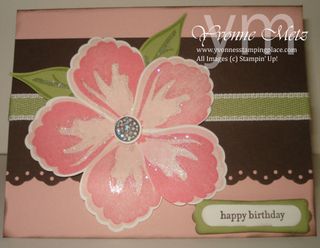 Evening Stampers,
I wanted to share this card I made for my Mom's Birthday. I am really LOVING the new Build a Blossom Set from Stampin' Up! and of course with the coordinating punch set.
This is a 2 step stamp set. What did I do? How did I do it? What did I use?
Stamp set:  Build a Blossom, Teeny Tiny wishes
Ink: Regal Rose, Blushing Bride, Choclate Chip, Pear Pizzazz
Cardstock: Whisper White, Blushing Bride, Chocolate Chip, Pear Pizzazz
Accessories: Build a Blossom Punch, Modern Label & Word window punch, Eyelet border punch, 1 1/4 cirle punch, Dazzling Diamond Glitter

1.  Using Blushing Bride ink stamp the solid image on Whisper White cardstock, then with Regal Rose Stamp the Out Line image on top of that.  Stamp your out line leaf image on Pear Pizzazz cardstock with Pear Pizzazz ink – Punch out all your images.
2.  I attached Chocolate Chip cardstock to the base of the card which is Blushing Bride and used the eyelet border punch on the bottom half.  
3.  With the Teeny Tiny wishes stamp set stamp your sentiment with chocolate ink and punch out using the Word Window Punch.
4.  Using Pear Pizzazz Cardstock punch out your shape with the Modern label punch and attach the sentiment to it. Punch out a 1 1/4 inch circle in Regal Rose or Blushing Bride. It doesn't matter what color you won't see it.
5.  Layer your Petals on the 1 1/4 inch Circle punch, attach the center with dimensionals – attach your flower with dimensionals to your card.
That is it! Hope you liked this card. I've got some more shares coming. Thanks for stopping by and if you have any questions please don't hesitate to ask.
Happy Stampin',
Yvonne Metz
Vista, Ca.