Good Moring all! Today I wanted to share with you the Christmas invites that I made.  They were fun to make and I just love the color combo. Talk about feeling like Christmas? This will be the last Christmas thing I share. I know I need to move on.  I'll have more to share next week when I get home from Nashville I'm sure.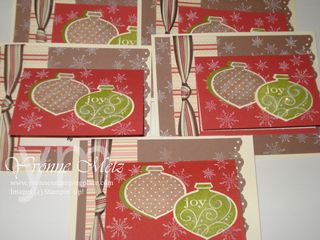 Everything used to make these cards was retired. You can easily adapt to any type of invitation.
Below  you'll see where the information went. This was a post card style invite. I got 4 out of 1 sheet of cardstock. Not bad huh?
I wish you could see the glitter on this a little bit better. I really miss Close to Cocoa. ; )
Well I won't promise anything but I will try to post from Leadership! If not you'll hear from me when I get home.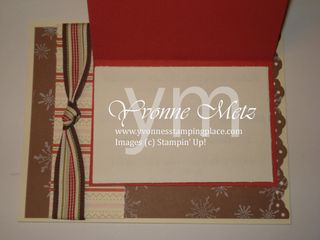 I do have 1 maybe 2 more posts coming. I wanted to share with you a Stampin' Up! Video on a cute treat cup card that was shared.
Thanks for stopping by and if you have any questions please don't  hesistate to email me.
Happy Stampin,
Yvonne Metz
Vista, Ca.