*Edited to re-add the directions – Sorry I don't know what happened they were there yesterday I promise! ; )
Hi Stampers! Well it's been raining all day today! School is out and I've been snuggling with my son all day today! Well not all day. Poor him being inside all day and his allergies are acting up. I am just hoping it doesn't turn into a cold. He started with a little coughing. UGH! I've got to watch him real good he's prone to bronchitis.  :  (
Well for today's share I got this idea from The  CardMaker Magazine November 2010. As soon as I saw it I knew I had to do this and use Stampin' Up!s Serene Snowflakes set! It was a must! LOL!  I'm giving instructions on how to do this. It is honestly super EASY!!  Enjoy and of course any questions please let me know.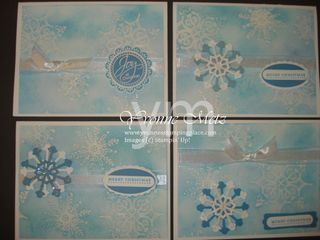 All supplies are Stampin' Up!
Stamp Set: Serene Snowflakes, Teeny Tiny Wishes
Cardstock: Whisper White, Marina Mist, Baja Breeze
Ink: White Craft, Marina Mista, Baja Breeze, Versa Mark pad
Accessories: The Big Shot, snowflake dies, White Organza ribbon, Dazzling Diamond Glitter, Scallop circle punch, Scallop Oval punch, lrge oval punch, Modern Label and Word window punch, Stampin' Dimensionals.
Step 1 -  On a 8 1/2 x 11 sheet of whisper white cardstock rub your embossing buddy all over it. Next randomly stamp your snowflakes with your Versamark ink.
Step 2 – Add your Clear embossing powder over the whole sheet, tap off excess. Next heat with your embossing heat gun.
Step 3 – Take your sponge and with the lighter blue randomly apply the ink on the cardstock leaving some areas un-inked.  Next do the same with the darker blue ink, filling in the un-inked areas and overlapping on the ink areas. The ink won't stick to the embossed snowflakes. Take a tissue paper or paper towel and wipe off any ink that gets on the Snowflakes.
Step 4 – In the book it says to cut you cardstock in 4 equal pieces. I cut mine down to 4 x 5 1/4.
Step 5 – Now you are ready to decorate as you like. Before I placed my layer of cardstock down to my card I added the ribbon first.  Enjoy!
As always thanks for stopping by and Happy Stampin',
Yvonne Metz
Vista, Ca.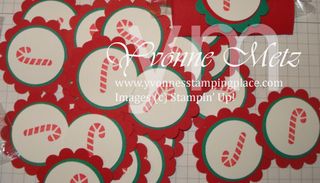 Oh, and did I mention a Sneek peak for tomorrow?  Just a cute little party favor.
I know mean  huh?