Quick Edit on where I got this project below! Been making boxes like crazy and got confused! LOL!  SCS does have an AWESOME Gable box too, which I did make and will share later! THX!
Good Evening Stampers!  Ok, so I meant to post earlier in the day today but had lots going on.  Walking, shopping, making more videos and of course having to edit them! ; )  Anyway, I wanted to share this with you all real quick before I turn in for the night!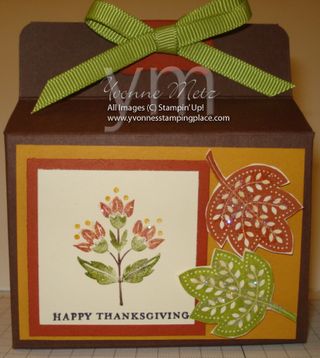 Need to Edit where I got this Idea from! Got this idea for the Gable Box from Richard Garay he has a great tutorial there! SUPER fun and easy directions!  Just up my alley!
 What did I use? Here goes:
Stamp Set: Day of Gratitude, Teeny Tiny Wishes
Cardstock:  Chocolate chip, More Mustard, Cajun Craze, Very Vanilla
Ink:  Cajun Craze, Old Olive
Accessories: Old Olive Ribbon, Glitter, stampin dimensionals
Any questions please let me know! You gotta give these a try!  If you do comment here I would LOVE to see what you all come up with!  Thanks for stopping by!
Happy Stampin,
Yvonne Metz
Vista, Ca.
p.s. Come back tomorrow for another cute project.