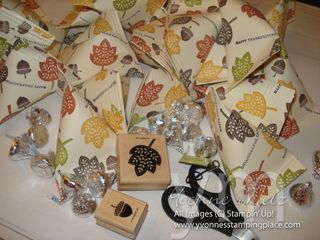 Happy Friday everybody!  Is it just me or did this week just fly by?  Well it sure seemed to for me, but then again I was super busy.  I wasn't feeling to well yesterday but I mentioned I was making little treat  holders for my son's class.  Well I did get them done and wanted to share those today. 
Now this project is an oldie but a goodie! Love the sourcream containers.  They are super easy to make!  If you haven't tried them you should.  Below is a quick tutorial on how to make them.  Would LOVE to see what you make.  Comment me with the link!
Also I made his Teacher a cute little box with "Mr. Acorn".  Is he not the cutest? 
I got this idea from a fellow Demonstrator Doris Denman.  Being a Stampin' Up! Demonstrator we have access to a site called "Stampin' Connection" and that's where I saw it!  She's has other amazing projects that I'll just have to share a little later! ; )
His face is the Ornament Punch! How clever is that???  I will share more of Mr. Acorn a little later.
Now on to the Picture Tutorial for the Sourcream Container!
Stamp set: Day of Gratitude, Teeny Tiny Wishes.
Ink used was: Early Espresso, Old Olive, More Mustard, Crajun Craze, Chocolate Chip & Basic Black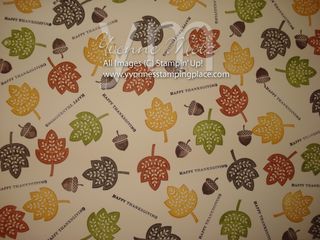 Step 1
I randomly stamped a full sheet of Very Vanilla cardstock using the Leaf, the acorn and Happy Thanksgiving using the colors mentioned above.
Step 2
Cut into 4 even pieces 4 1/4 then in half at 5 1/2 you'll have 4 pieces measuring 4 1/4 x 5 1/2.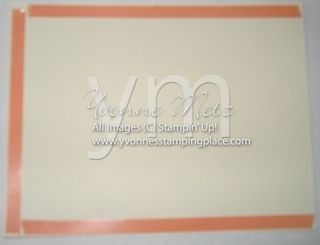 Step 3
Next you'll put your adhevsive as shown.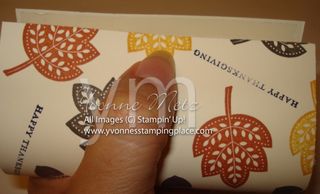 Step 4
You'll want to take off the sticky strip from the 4 1/4 inch side and roll like toilet paper and you'll end up with what should look like a toilet paper roll.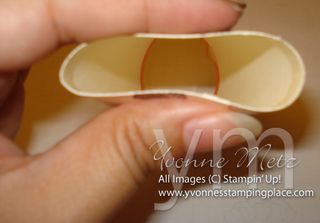 Step 5
 They you'll take the sticky strip off of one side and squeeze together like shown.
Step 6
Put that end into the crimper and turn about 3 times.  This will hold the sticky strip real good in place.
Before you pull off the next side of sticky strip put your goodies inside. I used Hershey's Kisses 3-4 will fit good inside.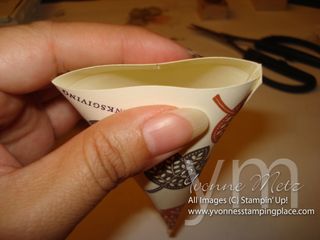 Step 7
Squeeze again put the opposite way. Look at the bottom of the photo.
Then run through the crimper again and you are done.  Now you can add a tag to these too! How cute would that be.  I just ran out of time.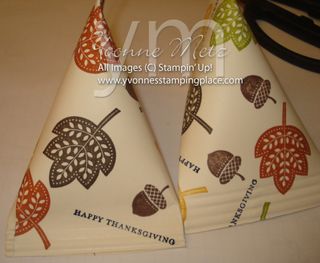 This will be  your finished project!  Now was that easy or what?
As always thanks for stopping by and tomorrow I'll share the party favors I made for my Son's end of the season baseball party.  TOO fun!
Have a great weekend and Happy Stampin',
Yvonne Metz
Vista, Ca.