I am back….sorry to have been MIA once again. I had some issues with my Account which are resolved now so I'm back to blogging.  Now to update everything ;  ) in time it will be for sure. Oh and we have an addition to the family…I'll share that later. I know how mean to just keep you wondering huh? ; )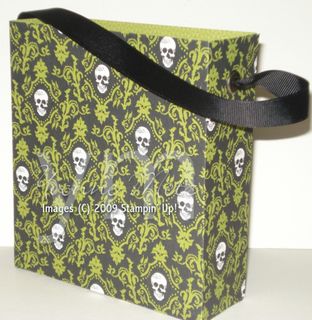 But now I'd like to start with what I had ended with.  I have a step by step tutorial for the Halloween Bag PLUS 3 different measurements so Enjoy and I'll have my video done over the weekend.
Ok, here is the newest Halloween Bag I've made…LOVE making these bags so simple and just a score here and a  cut there and you've got a super cute bag or if you make the smaller one you can close it up. Photos will show that below.  So let's start with the measurements!
Large bag which is the one I made on the post below are as follows:
10 1/2 x 11/12 – 2 pces – Score 3 sides at 2 1/4  -  Handle: If you use paper you can cut a strip of 1 x 11 1/2 (1 or 2 depends on what you like)
Medium Bag measurements are as follows:
8 1/2 x 10 – 2 pces  – Score 3 sides at 2 inches -  Handle: for the photo I used Black Grograin Ribbon with Jumbo eyelets.
Small Bag Measurements are as follows and Tutorial for these measurements below:
6 x 6 – 2 pces LOVE this size since you can get the Sampler Pack as a Hostess gift and it comes with 2 sheets. Woo Hoo! Ok, now this one I Scored 3 sides at 1 inch  -  Handle/your choice

Click on images to see larger photo.
Step 1: 
Score both pieces.  For this 6 x 6 you'll score 3 sides at 1 inch.
fold/crease all 3 sides


  
Steps 2 & 3:Snip as shown on 1 Piece take off the Tabs completely.

Step 4: Add your adhesive as shown. I LOVE  my sticky strip.
Steps 5, 6, 7: Put together as shown
Tip – on step 7 which is putting the sides together make sure they line up. You may need to trim top just a tad. 


 Done plus on the smaller bag you can squeeze the top as shown and close the way you like. Will show finished project of this a little later. Now just decorate as desired!
I sure hope you enjoyed and if you have any questions please let me know.  Will be working hard this weekend to get my blog updated.  More projects too!
Thanks for stopping by and have a wonderful weekend!
Yvonne Metz
Vista, Ca.