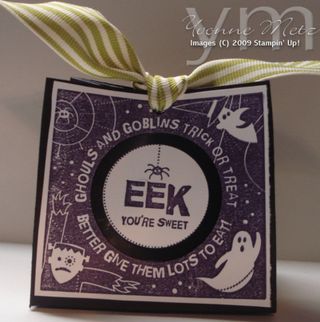 Happy Friday! I just wanted to share this quick Halloween Treat Bag.  I used the Sizzix Bigz Fancy Die Cute! I trimmed about 1/2 inch off the top.
Stamp Set is from the New Holiday Mini Catalog called 'Sweet Centers' #116521. Such a cute set! I just started playing around with it!  Cardstock used was Basic Black and Whisper White, Ink: Elegand Eggplant.
Stay tuned early tomorrow morning  I'll have an announcement on my blog for a huge give away.
Oh and one more thing, I recieved my box of NEW Goodies! Woo Hoo!  Sorry for not posting yesterday but besides it being "Back to School Night" I had to go through all my goodies and organize them for a SUPER Stamp Fest this weekend!  I can't wait! So be sure to check back and see what I'm doing!  Thanks for stopping by.
Happy Stampin,
Yvonne Metz
Vista, Ca.