Ok, here it is as promised!  Let me know if you have any questions at all! I have to warn  you these are super addicting.  I found the pattern in our monthly Stampin' Success Magazine we get and I just adjusted the measurements just to make it that much more easier.  Enjoy!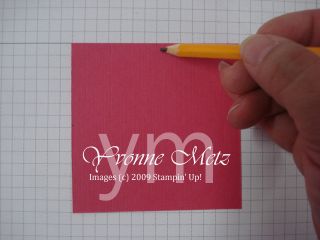 First you'll want to start with a 4 x 4 sheet of cardstock. Want it smaller? Just adjust the size..I also did one 3 x 3 which came out cute for your smaller paperback books.
Mark 3 sides with a little dot in the center. In this sample I marked at 2 inches.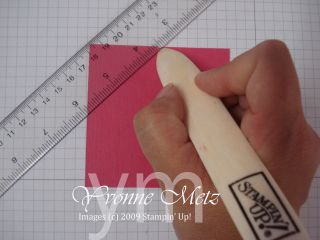 Now you are going to take your ruler and bone folder and make a score line from the center of to the side.

You can also use your Paper Cutter for this part too.  Just make sure you put your scoring tool in there or use you bone folder.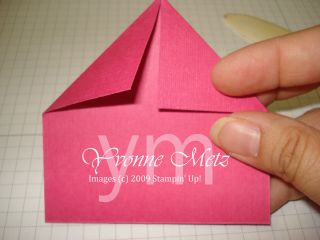 Now fold down both sides and this is how your piece will look.
Now I added a piece of cardstock to cover the line in the back.
To do this I just measured the part that was just scored and for this 4 x 4 size I got 2 3/4, so cut a square 2 3/4 x 2 3/4 and cut in half.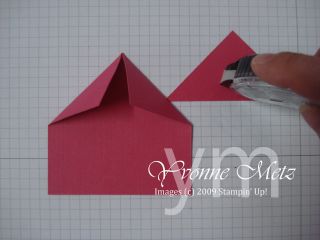 You will have this triangle piece and you'll then put adhesive on the back of it and place it on top of the book marker.
Make sure that if you end up with a gap where the cardstock meets, you want to make sure that you don't get any adhesive on the inside where the page will go.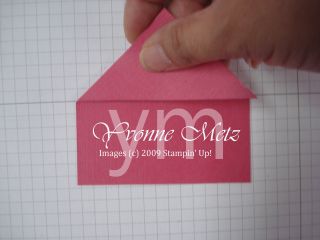 Here is what the finished piece looks like after you place the triangle part on it.
See no line! Love this cute little project. Perfect for school age kids and Great Teacher Gifts too!
Happy Stampin',
Yvonne Metz
Vista, Ca.