Hello all and Happy Monday!  Or is it?  We just now got into Pismo Beach, Ca. I LOVE it here.  Before I forgot there are 2 more days left to order from the Catalog until the New one which will start July 1st (Wednesday) Woo Hoo!  I can't wait.  SO many new goodies to play with.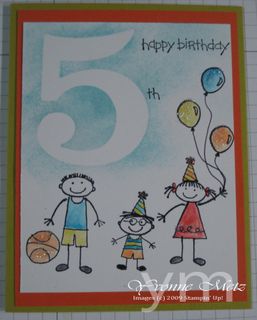 Well it's my Son Marcus's 5th Birthday today and we'll be taking him to Chuckie Cheese's later tonight. That's where he wants to go.   He's the boss!
So for today's share I wanted to share the card that I made for his Birthday. Didn't come out the way I wanted it to BUT I had to improvise. I was trying to use Sticky Numbers for the 5…BUT it didn't place right on the cardstock and when I tried to slowly peel it off…let's just say it wasn't pretty. SO what I did was just placed it on this card and sponged around it.
I used the All in the Family Set by Stampin' Up!. I  used all the In-Colors too which will no longer be available after tomorrow. 
Enjoy and if you have any quesitons please let me know. Thanks for stopping by!
Happy Stampin',
Yvonne Metz
Vista, Ca.