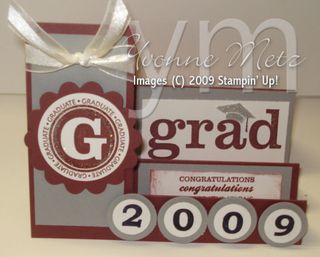 Happy Saturday All!  Well I've been busy over the last week! ; )  As I mentioned I'm getting ready for the Vista "Chocolate Festival". 
So anyways in between all that I'm making Grad Cards for my Daughter to see which one she likes..and with Graduation just around the corner.. .YIKES! I'll be up late these next few weeks.
Ok, so on with the details of this card. Super fun and once you do a few very easy to make.
Everything used is Stampin' Up! unless otherwise noted!

Stamp Set: Great Grad & (retired) Bold numbers! LOVE these numbers!
Card-stock: Bravo Burgundy, Going Gray, Whisper White
Ink: Bravo Burgundy, Going Gray & Basic Black
Accessories: SU! Punches, Big Shot Bigz Pennant Die, DD Glitter, Ribbon
I would LOVE to see your creations! Download Directions HERE!  As I mentioned before the directions I got from Kate Wilson & Jackie Topa's site!  OH – Quick Tip you want to make the Slit First…so you would have the 5 1/2 side up against your cutter and line it up to the 2…then go down to 2 1/8 start your slit and end at 7 1/2.  I hope that made sense! If not email me with any questions you may have!
Ok, on my way to a Birthday Party! 
Have a great day & Happy Stampin',
Yvonne Metz
Vista, Ca.