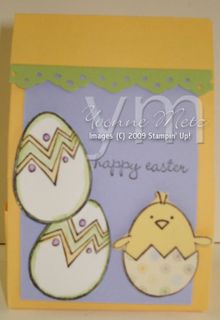 Ok, here is another super Easy Treat Holder! I wish I could of put the pattern out there before I left on vacation and I do apologize for that! BUT I will be doing a Video Tutorial on this when I get back.  SO that means Ive got 2 coming. Woo Hoo!  Again this is something you can use for any Occassion! ; ) Below is the sidse view of this cute holder.
I used the Egg from the set "Wagon full of Fun" It's the one in the new Occassions Mini catty! I'm really loving that set.  Enjoy and if you have any questions please don't hesitate to call or email me.
Thanks for stopping by and Happy Stampin',
Yvonne Metz
Vista, Ca.