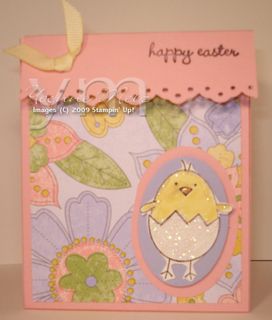 Today we are leaving for Las Vegas…Woo Hoo!  We are staying at the Red Rock..LOVE that place.  I have posts for the rest of the week already set for you while I'm away so make sure you come by and check it out. 
This Box I made out of 1 sheet of 8 1/2 x 11 sheet of cardstock! Using the whole thing no leftover pieces.  Woo Hoo! I will be making a Video of this when I return.  I was trying to make a step by step before I left but I just ran out of time…I mean with my Birthday and all!
 Anyway, this can be used for any Occassion….birthday, baby shower, etc….So I hope you like it and Thanks for stopping by!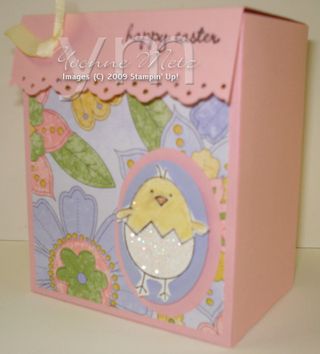 Here is a side view of the box. All supplies I used are Stampin' Up! unless otherwise noted.  Of course I used Stampin' Up's "A Good Egg Set" I just LOVE this set! Not that anyone could tell! The box is pretty deep you can't tell from the photo but it is about 4' deep.
Ok, so stay tuned for the video on how to make this box.
Happy Stampin',
Yvonne Metz
Vista, Ca.