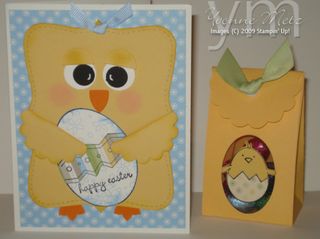 Sorry for the long silence…it's been crazy around here getting ready for Parties, classes, family…etc!  I was/am also getting ready for a 2-Day Royal Slumber Crop today (Saturday) March 14 and Sunday the 15th!  Scrapbook Royalty is holding this event benifiting "The Cancer Coping Center" and "The Boys & Girls Club of San Marcos.  I am so looking forward to this but I had to post real quick.
I wanted to share a couple of projects that I did at My Hostess "Suzanne's" last Friday! Boy this week just flew by! Thanks Suzanne for a "Great" Party!  I'll post more details a little later. Ok, is that Chic Card just to DIE for!  I got the idea from "Sharon Field" (Created By U – Blog)…who got it from Gretchen Barron..both of these Ladies are AWESOME! OHHH….I've got so much more to share but will have to wait until Monday..I'll have more details on what I used for this card…plus more shares.
Have a Great Weekend All and as always Thanks for stopping by and Happy Stampin',
Yvonne Metz
Vista, CA.