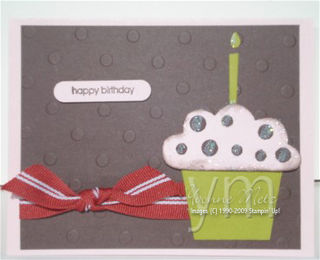 Good Morning All!
Well like I've mentioned before..I've been playing with all my goodies.  Just takes a little time editing and taking GOOD photos.  Especially of this on. Trying to get a good shot so you can see the "New" Texturz Plates! Awe…I really like these and talk about adding just that litle exra something to you card or even a project! 
The one I used here is the #114512 – Stampin' UP! Backgrounds 1.  I also used the new #114509 SU Big Bold Cupcakes Sizzlets. It comes in a pack of 4 for $21.95. LOVE this set and have more to share with you a little later. Cardstock used for this is Pink Pirouette, Kiwi Kiss, Choc. Chip. 
Enjoy and as always thanks for stopping by! 
Happy Stampin',
Yvonne Metz
Vista, Ca.
P.S. I'm working on a few more Videos come and soon and check them out.