Hello all…sorry to have been MIA all week it's been a LONG week with family issues…UGH!!!  But all is good.  I have been working to get these photos to share and I am just so bad at taking photos it's not even funny.  Yikes….so anyway I hope you  like my shares..will be back with more. Thanks for stopping by.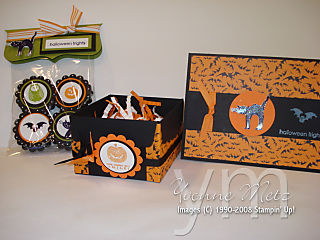 Here are 3 of the 5 projects that we will be doing in my Halloween Class… I loved doing these projects…I did the card myself believe it or not LOL!!!!  I "CASED" the little box which is  made with Stampin' Ups! exclusive Sizzix Envelope Die!  Which was shared by another stamper "Mary" I'll post my other creations with the link to where I got it a little later.  There treat bag was another "CASE" too.  It was just SOOOOO cute.  Angie Kennedy Juda   Below is a close up.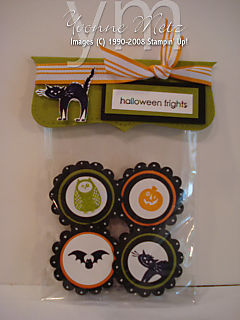 Here is a close up of the Treat Bag….LOVE the Bigz Top Note Die!  Great toppers you can make from them.   Love treat holders.  Information on my class is below:
Halloween Class
September 28th (Sunday) MY HOUSE
1:00 PM – 3:00 PM
Cost: $20.00 – Must Pre-Pay Class
RSVP no later then Monday 9/22/08 email me or (760) 597-0020 We will be making 4/5 different Projects we will be using the Big Shot too!
What to bring – the usual – scissors, double sided tape and bone folder if you have one.
Can't make it but would like A Class To Go? Email me for this Option.  Pay with Paypal click button below.