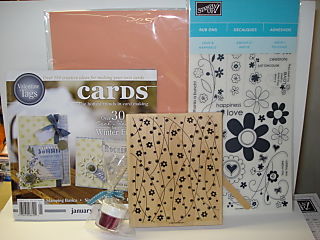 Ok so here we go with the Goodies! I have Rub-ons, In-Color 2007/2008 (20 sheets) all expect Groovy Guava. I have a Background Stamp Bitty Blossoms and the January 2008 Cards Magazine PLUS some of Stampins Glitter.
What do you have to do?  Just leave me a comment on this post and tell me what your favorite Stamp Set(s) are so far in this New Catalog!! OR your favorite technique.  IS that simple or what?  ONLY 1 comment per person please. I will have this at the top of my BLOG until Sunday…I will announce the Winner on Sunday Night! Picked by Random.Org. 
For newer posts scroll down.  Good Luck and as always…Thank you so much for stopping by!
Happy Stampin',
Yvonne Metz
Vista, Ca.