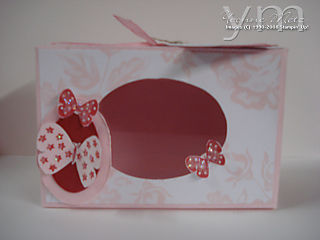 Happy Friday Night All! I just wanted to let you know that I am finally DONE!  It is officially still Friday Night here in Cali! 
I was expecting my Son to take a NAP today but of course because Mommy has something to do he didn't! UGH!  Oh, well at least he was a Good Boy and let me finish my File!  I really hope you enjoy this and if you have any quesitons please let me know.  I hope you can understand the Diagram that I tried to make.  I ahve another Super Cute Box to share tomorrow!  As I was throwing this Tea Bag box out, I was also tossing a Party Lite candle box…well you know I had to make something with that too!  I few changes here and there and I created a super cute and semi-easy box. ; 
Download Birdday_box_Tutorial.pdf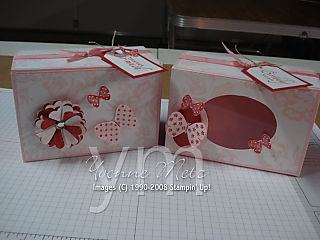 Ok, here are 2 of them together you can skip the Coluzzle part if you want to.  I don't know I think I like it better with the Cut out in front. My daughter and I liked it but liked the other one better.  Now maybe try another set, DSP or something. Ok, this last photo below is the close up on the tag I made.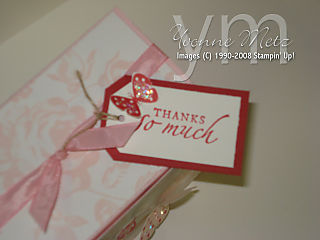 I love this Tag! It would be perfect on a card to! I love this NEW Set too Stampin' Up's  "Flight of the Butterfly" and of course the New Bella Rose DSP! Yummy!!!
Ok so go ahead and make some Boxes! I would love to see your creations! My box of Goodies came in today so I'll be playing all day tomorrow! It's  Mom's Day! As always Thanks for stopping by!
Happy Stampin!
Yvonne Metz
Vista, Ca.